This is my first time participating in 5 question friday! But I think I will try every week... and I know I have been slacking at the vlogs lately.. but my goal this week is to Vlog :)

So here are the questions this week...

1. Vow renewal ceremonies-yay or nay?
YES!! Of course, Since we are having our vows renewed in may 2013.. There are several reasons. One reason I think they are a good thing, is after so many years.. both people have changed and hopefully grown together, kids families new friends.. and you finally know what you want.. and there is less drama, no real nervousness about the whole thing.. just pure enjoyment and sharing the time with your family and friends. :) Plus its a great reason to get everyone together, and an excuse for other families to take a vacation and enjoy time with each other also.

Question for you...??... Do you think its ok to have a honeymoon registery for vow renewals?.. since we never got to take a honeymoon the first time we got married?.

2. W
hat sound/s annoy you the most?
Hmm.. tough. There are lots of sounds that annoy me. I used to have tons of patience, not so much lately.. I think the most annoying sound is Riley playing his video games next to my head when I am doing something else.. That drives ME CRAZY! and Mike too. and he almost refuses to turn it down.. or he does a little trick.. when I yell "Turn it down".. he turns it up.. then down.. like I am not going to notice.. Duh.
3.
If you
had
to pick, would you have only all boys, or only all girls for kids?
Oh NO what a horrible question for me.. If I had to pick I think... I guess I would pick girls. just because I dont have one. Eventhough I know girls are harder then boys. BUT I wouldnt trade my boys for anything they are great! .. I'll have a girl someday :)
4.
Do you believe in alternative medicine?
Yes, I think the brain is very powerful.. and so if you truely believe in alternative medicine. it will work for you :)
5. W
ould you take a family member's children and raise them if they needed it?
Of course! :) even friends kids, and I would love them like my own.
------------------------------------------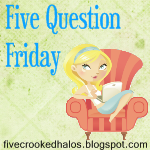 Click here to get in on the fun! :)